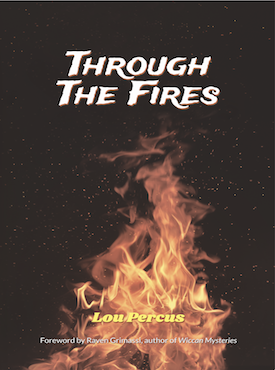 Through the Fires
The Wizard's Way: A Book of the Old Religion
In this work unearthed from the 1980s, author Lou Percus offers a complete book on "the Old Religion" as a spiritual and magickal path for gay men, written by a gay man. Through the Fires also provides insights into the interactions between Witchcraft, paganism, and sexual identity from the early days of widespread American publishing about Witchcraft. A groundbreaking work for its time, it now offers us a perspective on what might have been, but for the author's passing.
In these pages, you will find a complete and unique expression of Witchcraft, drawing upon traditional elements, but in their own particular configuration. From information about a complete pantheon of gods to the witch's tools, spirituality versus religion, myth and ritual cycles, rites of passage, spell-work, and more, all with inclusion of and a specific focus on the needs of gay men.
Lou Percus was born in the American Midwest in 1953, served in the U.S. Navy, and was a contemporary of modern witches like Scott Cunningham and Raven Grimassi in the 1970s and '80s. Feeling disenfranchised from "fertility-based" Witchcraft, Percus created the system found in Through the Fires. Lou Percus passed beyond the veil in 1994 due to complications from AIDS, leaving his finished manuscript behind as part of his legacy.
Book Details
Published:
December 21, 2019
ISBN:
978-1-940755-10-6
Size:
6x9
Pages:
294
Available In:
Softcover Edition,
EBook Edition
MSRP:
$21.99
Testimonials